The most demanding and dangerous position on a baseball field is the one designated as "number 2" on a scorecard – the catcher. The role of catcher has evolved into a strategic part of the baseball game. Therefore, it is only fitting that the baseball community nationally recognizes the top collegiate catcher.
Previously known as the Johnny Bench Award, the Buster Posey National Collegiate Catcher of the Year Award honors the nation's top division one collegiate catcher as voted on by head coaches and sports information directors.
2022 Buster Posey National Collegiate Catcher of the Year Award
­Watch List
Ninety-eight catchers were nominated for the award by their schools in 2022.
The watch list will be narrowed down to the semifinalists, whom will be announced May 19, 2022. Ballots will be sent to the national voting committee at the end of May for a vote to determine the three finalists. The finalists will be announced June 7, 2022. A final vote among the national committee will occur during the College World Series. All finalists will be brought to Wichita and the winner will be announced on June 29, 2022.
2022 Buster Posey Award Watch List UPDATE 5/6/22
Colin Adams, GR Long Island
Jack Alexander, SR Austin Peay State
Cole Andrews, SR Miami (OH)
Silas Ardoin, R-SO, Texas
Gray Betts, JR, Liberty
Thomas Bramley, SR, Mount St. Mary's
Colin Burgess, JR, South Carolina
Connor Burns, SO, Long Beach State
Peter Burns, SR, Boston College
Ross Cadena, SR, Wichita State
Michael Campagna, SO, San Francisco
Jackson Campbell, SR, Belmont
Michael Carico, SO Davidson
Mike Caruso, SR, Fairfield
Cam Cerruto, SR, Army West Point
Connor Charping, SR, Western Michigan
Troy Claunch, SR, Texas A&M
Jorge Corona, SO, Louisiana Tech
Andrew Cossetti, SR Saint Joseph's
Alex Crump, SR, Murray State
Angelo D'Acunto, SR, Holy Cross
Adam Dapkewicz, JR, Georgetown
Sammy Diaz, JR UTSA
Mitchell Dickson, JR, Abilene Christian
Matt Donlan, R-JR UConn
Hayden Dunhurst, JR, Mississippi
Matthew Ellis, JR Indiana
Cole Elvis, SR, California
Cade Fitzpatrick, JR Purdue Fort Wayne
Tomas Frick, SO, North Carolina
Josh Glenn, SR Northern Colorado
Fernando Gonzalez, SO, Georgia
Bryce Grizzaffi, SO, Southeastern Louisiana
Garret Guillemette, SO, Southern California
Nick Hassan, SO, Kennessaw State
Kaden Hollow, SO, Dixie State
Ty Hooks, SO, Winthrop
Kody Huff, Jr, Stanford
Cade Hunter, SO, Virginia Tech
Jerry Huntzinger, SR, Xavier
Walker Janek, FR  Sam Houston
Ryan Johnson, JR, Pepperdine
Dylan Judd, JR, Massachusetts
Andrew Keck, JR Southeast Missouri State
Dominic Keegan, SR, Vanderbilt
Will King, SO, Eastern Kentucky
David LaManna, SR, Notre Dame
Bennett Lee, SO Tulane
Ryan Leitch, SO, Marshall
Sam Loda, SR, Central Connecticut State
JT Marr, JR College of Charleston
David Martin, SO California Baptist
Hunter May, JR, Alabama State
Mike Mazzara, SR, Canisius
Thomas McCaffrey, SO, UC Irvine
David Melfi, SO, Wagner
Nolan Metcalf, SR, Kansas
Zach Morgan, JR, Fresno State
Ben Newton, SR, East Carolina
Jimmy Obertop, JR, Michigan
Kevin Parada, SO, Georgia Tech
Shane Paradine, JR, Stony Brook
Caleb Pendleton, SO, Florida Atlantic
Christian Policelli, SR United States Naval Academy
Taj Porter, R-SR, Southern
Collin Price, JR Mercer
Ryan Proto, SO, UMass Lowell
Cam Redding, JR, Saint Louis
Keaton Rice, SR, Bradley
Caleb Ricketts, JR, San Diego
BT Riopelle, JR  Florida
Nelson Rivera, SO South Florida
Maxwell Romero, Jr., JR, Miami
George Rosales, SR, Fairleigh Dickinson
Alonzo Rubalcaba, SR, Kentucky
JC Santini, Grad, Northwestern
Drew Sims, SR, Utah Valley
Ryan Snell, JR, Lamar
Ryan Stafford, FR Cal Poly
Chase Stanke, SR, Minnesota
Matt Suggs, JR, UNCW
Andrew Sundean, FR UCF
Daniel Susac, SO, Arizona
Dominic Tamez, JR, Alabama
Logan Tanner, SO, Mississippi State
Justin Taylor, JR, Texas A&M-Corpus Christi
Kyle Teel, SO, Virginia
Jared Thomas, JR, Loyola Marymount
Brendan Tinsman, JR, Wake Forest
Cason Tollett, FR, Arkansas State
Humberto Torres, SO, Gardner-Webb
John Tuccillo, SR, Bryant
Anthony Tulimero, SO, Houston
Michael Turner, SR, Arkansas
Matt Wood, JR, Penn State
Jake Wright, JR, Arkansas-Little Rock
Jake Wyandt, SR, Auburn
Hernan Yanez, JR, Incarnate Word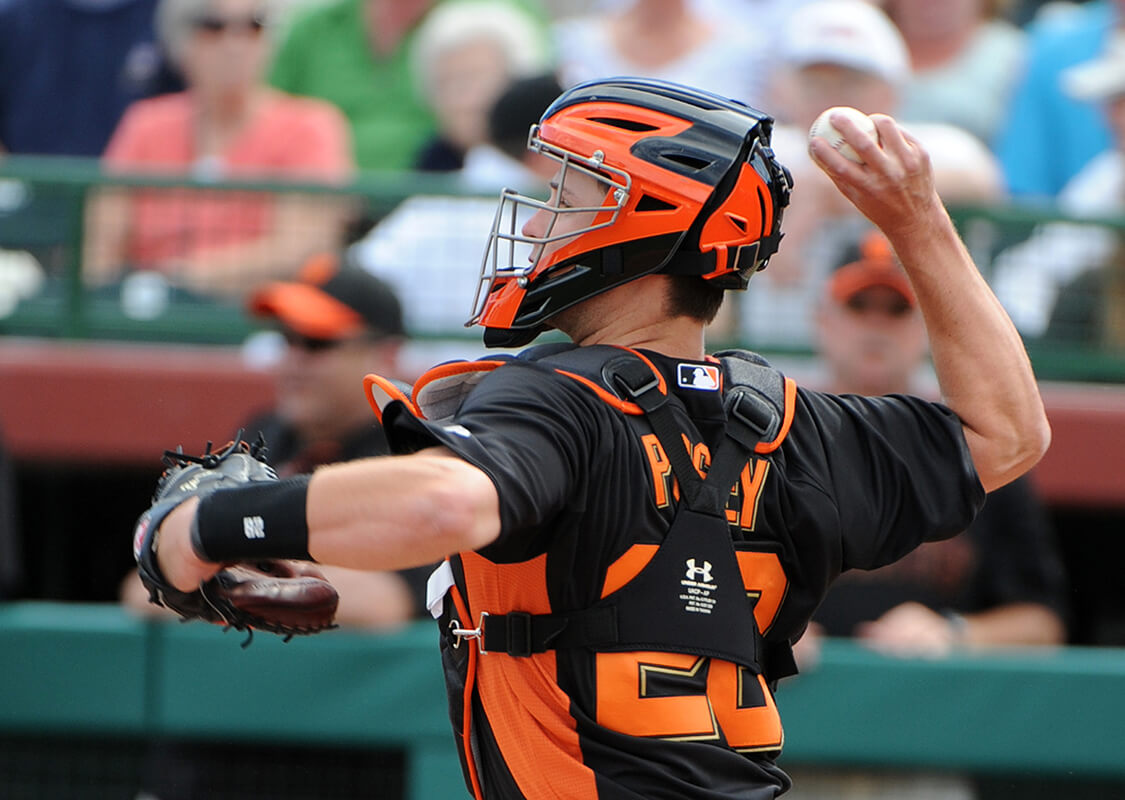 Who is Buster Posey?
Posey began his collegiate career as a shortstop, before moving to the catcher's position his sophomore year. His junior season honors include: Johnny Bench Award, the Dick Howser Trophy, the Golden Spikes Award, and the 5th overall draft pick by the Giants.
Since his major league debut in 2010, Posey's honors include: 3 world series titles,6 All-Star Game selections, 4 Silver Slugger Awards, 2010 National League Rookie of the Year, 2012 National League MVP, and 2016 Gold Glove Award winner.   ©2019 S.F. Giants
| | | | | | | | | | | | | |
| --- | --- | --- | --- | --- | --- | --- | --- | --- | --- | --- | --- | --- |
| AVG | GP-GS | AB | R | H | 2B | 3B | HR | RBI | TB | SLG% | | |
| .460 | 66-65 | 248 | 88 | 114 | 20 | 4 | 26 | 92 | 220 | .887 | | |
| | | | | | | | | | | | | |
| BB | HBP | SO | OB% | SB-ATT | PO | A | E | Fld% | SBA-ATT | CSB% | PB | CI |
| 55 | 8 | 27 | .564 | 5-8 | 416 | 50 | 8 | .983 | 34-58 | 41.3 | 2 | 0 |
NATIONAL COLLEGIATE CATCHER OF THE YEAR RECIPIENT AND FINALISTS
2021 Matheu Nelson, Florida State (Henry Davis, Louisville, Andy Thomas, Baylor)
2020 Did not award due to COVID-19 and cancellation of baseball season.
2019 Adley Rutschman, Oregon State (Kyle McCann, Georgia Tech; Eric Yang, UC Santa Barbara
2018 Joey Bart, Georgia Tech (Alex Holderbach, Eastern Kentucky; Rey Pastrana, Marrshall)
2017 Matt Whatley, Oral Roberts (David Banuelos, Long Beach State; Brent Diaz, Louisiana Tech)
2016 Zack Collins, Miami (Logan Ice, Oregon State; Keith Skinner, North Florida)
2015 Garrett Stubbs, Southern California (Kade Scivicque, LSU; Matt Winn, VMI)
2014 Max Pentecost, Kennesaw State (Will Allen, Ole Miss; Kyle Schwarber, Indiana)
2013 Stuart Turner, Ole Miss (Mitchell Garver, New Mexico; Zane Evans, Georgia Tech)
2012 Mike Zunino, Florida (Kevin Plawecki, Purdue; Mitchell Garver, New Mexico)
2011 Jake Lowery, James Madison (Chris O'Brien, Wichita State; Mike Zunino, Florida)
2010 Bryan Holaday, TCU (Yasmani Grandal, Miami; Jose Iglesias, Coastal Carolina)
2009 JT Wise, Oklahoma (Chris Henderson, George Mason; Tony Sanchez, Boston College)
2008 Buster Posey, Florida St. (Jason Castro, Stanford; Dock Doyle, Coastal Carolina)
2007 Edward Easley, Mississippi St (Matt Wieters, Georgia Tech; Buster Posey, Florida St.)
2006 Jake Smith, East Carolina (Jeff Kunkel, Michigan; Eddy Rodriguez, Miami)
2005 Jeff Clement, Southern California (Nick Hundley, Arizona; Taylor Teagarden, Texas)
2004 Kurt Suzuki, CS Fullerton (Landon Powell, South Carolina; Chris Iannetta, North Carolina)
2003 Ryan Garko, Stanford (Tony Richie, Florida St.; Colt Morton, NC State)
2002 Jeremy Brown, Alabama (Chris Snyder, Houston; Alberto Concepcion, Southern California)
2001 Kelly Shoppach, Baylor (Casey Myers, Arizona State; Jeremy Brown, Alabama)
2000 Brad Cresse, LSU (Justin Cowan, Nebraska; Casey Myers, Arizona State)