The most demanding and dangerous position on a baseball field is the one designated as "number 2" on a scorecard – the catcher. The role of catcher has evolved into a strategic part of the baseball game. Therefore, it is only fitting that the baseball community nationally recognizes the top collegiate catcher.
Previously known as the Johnny Bench Award, the Buster Posey National Collegiate Catcher of the Year Award presented by the Kamerion Wimbley Foundation honors the nation's top division one collegiate catcher as voted on by head coaches and sports information directors.
2021 Buster Posey National Collegiate Catcher of the Year Watch List UPDATED 5-7-21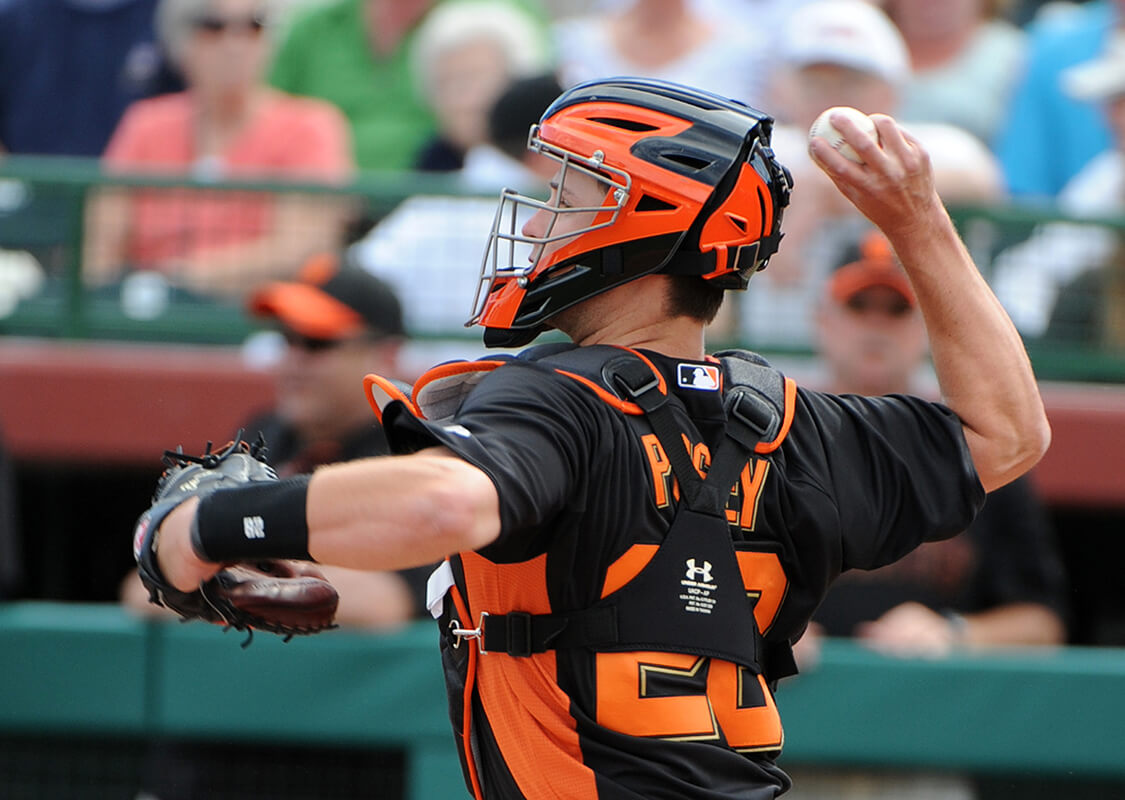 Who is Buster Posey?
Posey began his collegiate career as a shortstop, before moving to the catcher's position his sophomore year. His junior season honors include: Johnny Bench Award, the Dick Howser Trophy, the Golden Spikes Award, and the 5th overall draft pick by the Giants.
Since his major league debut in 2010, Posey's honors include: 3 world series titles,6 All-Star Game selections, 4 Silver Slugger Awards, 2010 National League Rookie of the Year, 2012 National League MVP, and 2016 Gold Glove Award winner.   ©2019 S.F. Giants
NATIONAL COLLEGIATE CATCHER OF THE YEAR RECIPIENT AND FINALISTS
2000 Brad Cresse, LSU (Justin Cowan, Nebraska; Casey Myers, Arizona State)
2001 Kelly Shoppach, Baylor (Casey Myers, Arizona State; Jeremy Brown, Alabama)
2002 Jeremy Brown, Alabama (Chris Snyder, Houston; Alberto Concepcion, Southern California)
2003 Ryan Garko, Stanford (Tony Richie, Florida St.; Colt Morton, NC State)
2004 Kurt Suzuki, CS Fullerton (Landon Powell, South Carolina; Chris Iannetta, North Carolina)
2005 Jeff Clement, Southern California (Nick Hundley, Arizona; Taylor Teagarden, Texas)
2006 Jake Smith, East Carolina (Jeff Kunkel, Michigan; Eddy Rodriguez, Miami)
2007 Edward Easley, Mississippi St (Matt Wieters, Georgia Tech; Buster Posey, Florida St.)
2008 Buster Posey, Florida St. (Jason Castro, Stanford; Dock Doyle, Coastal Carolina)
2009 JT Wise, Oklahoma (Chris Henderson, George Mason; Tony Sanchez, Boston College)
2010 Bryan Holaday, TCU (Yasmani Grandal, Miami; Jose Iglesias, Coastal Carolina)
2011 Jake Lowery, James Madison (Chris O'Brien, Wichita State; Mike Zunino, Florida)
2012 Mike Zunino, Florida (Kevin Plawecki, Purdue; Mitchell Garver, New Mexico)
2013 Stuart Turner, Ole Miss (Mitchell Garver, New Mexico; Zane Evans, Georgia Tech)
2014 Max Pentecost, Kennesaw State (Will Allen, Ole Miss; Kyle Schwarber, Indiana)
2015 Garrett Stubbs, Southern California (Kade Scivicque, LSU; Matt Winn, VMI)
2016 Zack Collins, Miami (Logan Ice, Oregon State; Keith Skinner, North Florida)
2017 Matt Whatley, Oral Roberts (David Banuelos, Long Beach State; Brent Diaz, Louisiana Tech)
2018 Joey Bart, Georgia Tech (Alex Holderbach, Eastern Kentucky; Rey Pastrana, Marrshall)
2019 Adley Rutschman, Oregon State (Kyle McCann, Georgia Tech; Eric Yang, UC Santa Barbara
2020 Did not award due to COVID-19 and cancellation of baseball season.