Greater Wichita Sports Banquet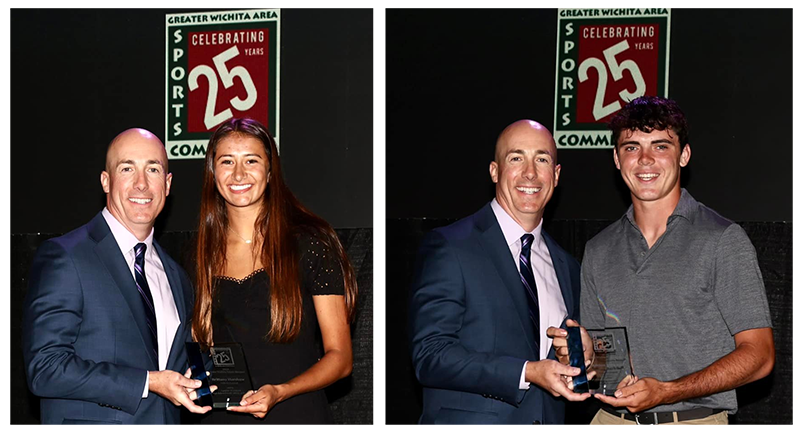 The annual ceremony recognizes the achievements and dedication of local youth, high school, college and professional athletes and coaches. Each year, Wichita area athletes are awarded for outstanding performances in basketball, football, volleyball, track & field, baseball, and more.
The 25th Annual Greater Wichita Sports Banquet will be held on Wednesday, June 28, 2023.
2022 Award Finalists Announced  6-9-22
Images from 2021 can be found on our facebook page.
Congratulations to the 2022 Winners!
Lynette Woodard High School Female Athlete of the Year: Brittany Harshaw (Andover Central)
Barry Sanders High School Male Athlete of the Year: Ashton Barkdull (Andover Central)
Junior College Female Athlete of the Year: Madi Young (Butler Community College)
Junior College Male Athlete of the Year: Malik Benson (Hutchinson Community College)
College Female Athlete of the Year: Sydney McKinney (Wichita State)
College Male Athlete of the Year: Cameron Bye (Wichita State)
High School Girls Coach of the Year – Corey Jones, Valley Center Softball
High School Boys Coach of the Year – Brett Means, Goddard Wrestling
Gene Stephenson Coach of the Year – Kristi Bredbenner, Wichita State Softball
Professional Athlete of the Year – Simeon Woods Richardson, Wichita Wind Surge
Award of Excellence – Andale High School
Award of Excellence – Hutchinson Community College Golf Team
Contributor of the Year – Matt Rogers
Creation of the Robert E. "Bob" Hanson Impact Award
Buster Posey National Collegiate Catcher of the Year: Kevin Parada, Georgia Tech
Past Wichita Sports Award Winners