Prairie Fire Marathon
Wichita's Premier Running Series - Fall Race October 9, 2022
Davis-Moore to serve as presenting sponsor of the Prairie fire race series
Wichita, KS – The Greater Wichita Area Sports Commission (GWASC) is excited to announce a multi-year partnership with Davis-Moore Automotive Group to serve as the presenting sponsor of the Prairie Fire Race Series beginning in May 2022.
The GWASC has operated the annual marathon since 2010 when it was rebranded from the Wichita Marathon to the Prairie Fire Marathon which is held on the second Sunday of October. The Prairie Fire Spring Half Marathon was added in 2013 and is held on the first Sunday of May.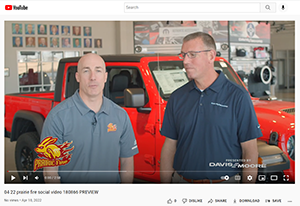 ———————————————–
Monday, October 11, 2021
Thank you to the 1,600 people that registered for our races and the 350+ volunteers that helped make it happen!  We hope the day was a positive memory for all of you!
Thank you to Captivating Sports Photos for capturing they day and Visit Wichita for sponsoring the images so they are free to download.
———————————————-
In 2010, the Greater Wichita Area Sports Commission took ownership of the Prairie Fire Marathon (previously known as the Wichita Marathon). For the first time, not only was a full marathon race offered, but also a half marathon, 5K, youth marathon, and one-mile walk.
In 2013, we expanded into the Spring running season offering our Half Marathon, 5K, Sparky's Kids Mile, and a Fun Run/Walk. Both the Spring and Fall events make up the Prairie Fire Race Series.
In 2021, we eliminated the one-mile races and created the Friendly 5K.  This allows two people to participate in our 5K races without being timed, while receiving all the other race amenities.
Since the inaugural Prairie Fire race in 2010, the Greater Wichita Area Sports Commission has contributed over $155,000 to other local charities and organizations. Over the course of a decade, more than 48,000 runners have participated in our races. Many have traveled to Wichita from all 50 states and 15 foreign countries. 
Prairie Fire Marathon is now the premier urban Wichita, Kansas marathon. Kansas runners can count on flat, fast, Boston qualifying courses each year with our Spring and Fall races. The Spring race is held on the first Sunday in May, and the Fall race is on the second Sunday in October. Register for a race to see for yourself!
This year we are using  the RunSignUp platform to organize our race volunteers. If you are with a group, please find your group in the descriptions and follow the directions. All water stations are being covered by groups. PLEASE make sure you select the correct one.
If your group is already committed to working, please sign up at https://runsignup.com/Race/Volunteer/KS/Wichita/SpringPrairieFireHalfMarathon  If you would like to learn about volunteer options, please email us at scott@wichitasports.com
*Special Note: If you are trying to register for a spot and get asked for a password, this is an area that was created for a group. Generally you can see the group name in the header (ie: Water Station 1 5/1 Davis-Moore). If you are a part of the group, your coordinator should have your password. If you are an individual trying to sign up, please try a different section. If you still have trouble, reach out to Scott at the above email. Thank you!