2018 Midwestern/Pacific Coast Synchronized Skating Sectional Championships
January 24-28, 2018

2018 NCAA Men's Basketball 1st/2nd Rounds
March 15 & 17, 2018

Welcome to the Greater Wichita Area Sports Commission

We have compiled a listing of sporting events, attractions, tournaments and facility information which we hope you will find helpful and beneficial.
NJCAA Region VI Basketball
Kansas City KS 63 Johnson County 56
Kansas City KS advances to the NJCAA D2 Women's National Championship Tournament in Overland
Park, KS

Kansas City KS 77 Brown Mackie 66
Kansas City KS advances to the NJCAA National Championship Tournament in Danville, IL

Cowley 67 Seward County 57

Cowley advances to the NJCAA Women's D1 National Championship Tournament in Lubbock, TX

Neosho County 66 Hutchinson 58 FINAL

Neosho County advances to the NJCAA National Championship Tournament in Hutchinson, KS
Sports Commission honored by City Council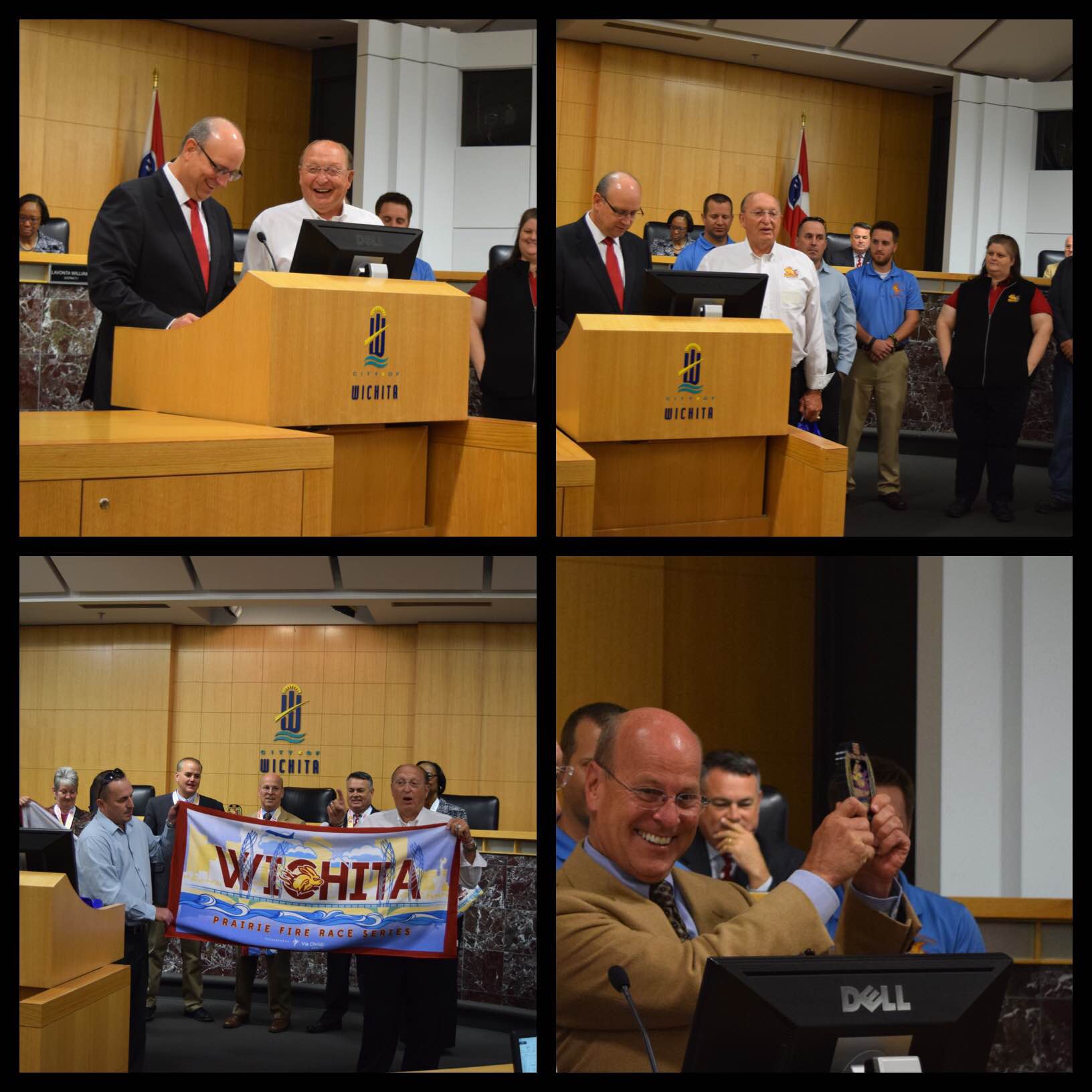 The Greater Wichita Area Sports Commission was honored today during the Wichita City Council Meeting. Bob Hanson accepted an appreciation award on behalf of the organization for their success with the annual Prairie Fire Marathon.
The 2015 Prairie Fire Marathon attracted 3,825 runners from 39 states and six countries. By using their expertise in event production, the Sports Commission is able to create a festive, fun and energizing atmosphere for runners in the core of the city.
During his comments, Hanson said an event of this magnitude would not be possible without the support of the sponsors, volunteers and citizens of the community. He added that $10,000 would be given to local charities and organizations this fall, bringing the total to over $100,000 since 2010.
Hanson also gave Councilman Pete Meitzner his 3rd place award he won in his age division for the Mayor's 5K Challenge.
MLB All-Star Festivities
It was a busy 48 hours for 2015 Johnny Bench Award presented by BaseballSavings.com recipient Garrett Stubbs, as he traveled to Cincinnati to take part in the 2015 MLB All-Star Game Festivities.
During his visit, Garrett attended the MLB Futures and Celebrity Softball games on Sunday. On Monday, he joined Johnny Bench at FanFest before attending the Home Run Derby. Follow this link to listen to a part of Garrett and Johnny's interview.

2015 YMCA National Gymnastics Championship
We are pleased to announce that Wichita will be the host of the 2015 YMCA National Gymnastics Championship. The event will take place June 23-27, 2015 at Century II Convention Center. The event will bring in over 5,300 athletes,family members and coaches to the city of Wichita.
To read
the full press release, click on the link below.