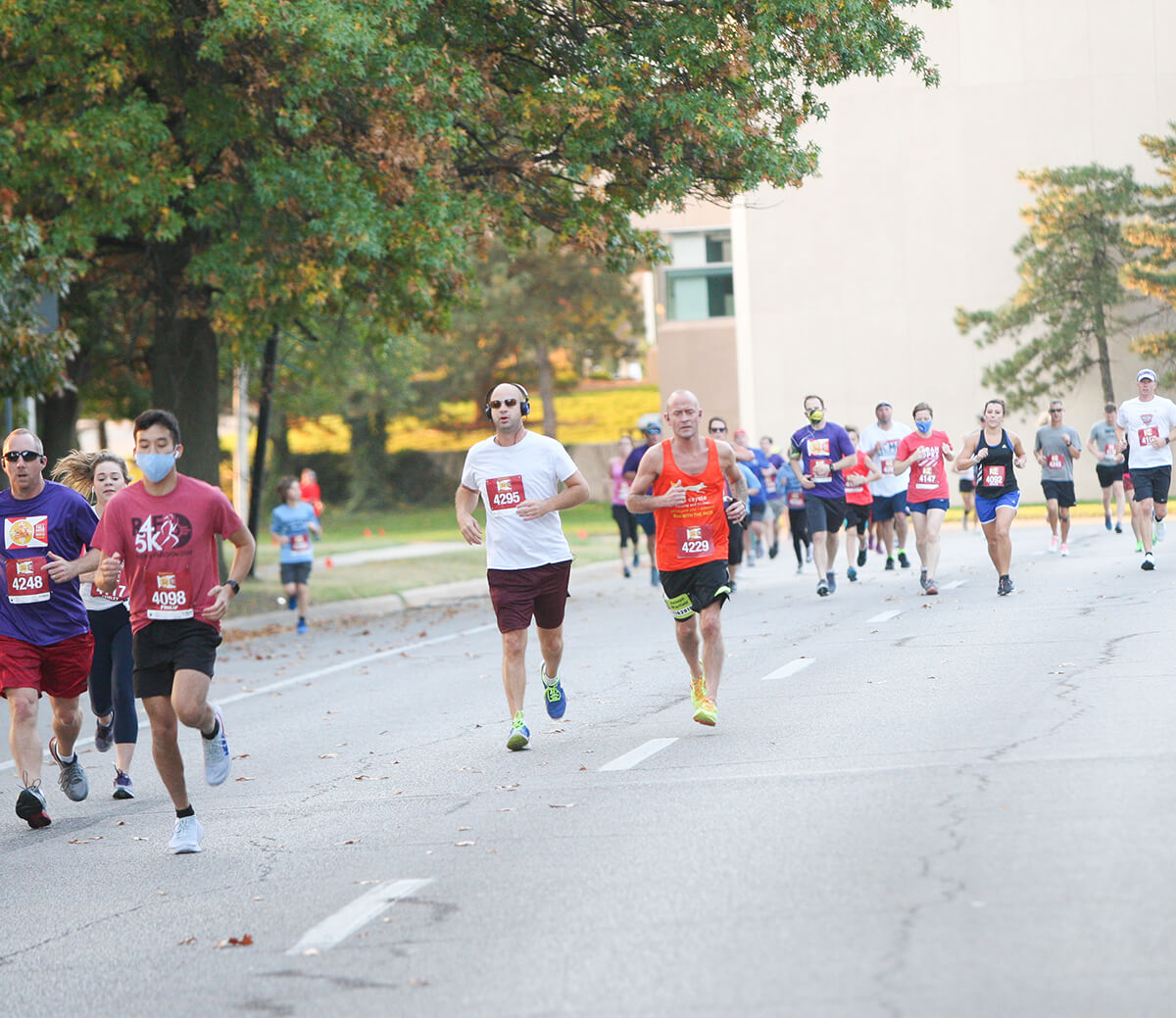 Spring Race Schedule
The Prairie Fire Marathon Spring Race Start/Finish will be at 455 S. Wichita St, Wichita, KS 67202.
SUNDAY, MAY 2ND, 2021
7:30 AM : Half Marathon Start
8:00 AM : 5K Start
9:00 AM : 5K Awards (TBD pending COVID Guidelines)
10:00 AM : Sparky's Kids Mile & Fun Run/Walk Start (Cancelled for 2021)
10:20 AM : Half Marathon Awards (TBD pending COVID Guidelines)
Hotels & Car Rentals
Hotel Information

The Drury Plaza Hotel Broadview is serving as the Host Hotel for the Prairie Fire Marathon Race Series and are offering discounted rates. Not only will you get the good rate, but you'll be within 8-10 blocks of the start/finish line and Wichita's wonderful downtown experience!

DRURY BROADVIEW HOTEL

Thank you for allowing Drury Plaza Hotel Broadview Wichita to be a part of your next great event!  We are looking forward to seeing you soon and we are ready to uphold our reputation for great service & value.  Rooms have been held for your group and to make reservations, please click on the link below. We are just 8 blocks from start line.

As you might have heard, The Extra's Aren't Extra at Drury Hotels!  In addition to the great rate, here are some of the amenities your group will enjoy:

 HOT QUIKSTART ® Breakfast – At Drury, "hot" means fresh pancakes, scrambled eggs, biscuits & gravy, sausage and more.
5:30 KICKBACK® – From 5:30-7:00 pm each evening, kick back, relax and enjoy a rotating menu of hot foods and cold beverages.
FREE Free Long Distance – One hour every room every night.  
FREE Wireless Internet Access – High speed Internet in all rooms and the lobby.
FREE Soda and Popcorn – From 3:00 pm to 10:00 pm every night in the lobby.

Plus much more!

Please make your reservations by Monday, March 30, 2020 to receive your group rate.  Reservations made after this date will be subject to prevailing rate and availability.

Book the DRURY BROADVIEW HOTEL SPRING MARATHON

FOR ADDITIONAL HOTEL INFORMATION

Air Travel

Visit www.flywichita.com for flight information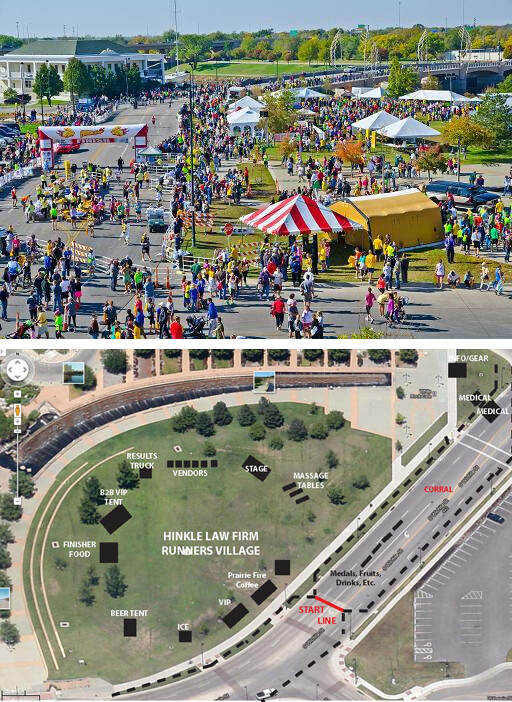 Spring Runners' Village 
Runners' Village
2021 Note: Due to COVID restrictions, some Runners' Village amenities/features may not be available.
One of the most exciting features of the Prairie Fire Race Series is the runners' village, which is full of everything runners need before and after the race! The Spring Runners' Village will be held at 455 S. Wichita, Wichita, KS 67202.
It offers a bag check for personal items, medical tents, free massages, runners food tent, runners information tent, free coffee, and free beer. There's also water, Gatorade, and fruit as you cross the finish line. In addition to these amenities, there's also live music on stage for your entertainment.
Another unique part of the Prairie Fire Race Series is our broadcasters at the finish line giving live updates of runners coming into the finish. The live feed can be heard a half mile out for an added rush of adrenaline for runners to finish strong!
Hydration Stations & Restrooms
The Prairie Fire Marathon is proud to serve Gatorade sports drinks at all hydration stations. Fully filtered water is provided by Culligan. GU hydration will also be available in certain locations. Minor emergency supplies (i.e. Band-Aids, Vaseline, ice) will also be available at each station.
Hydration Stations
Locations for Spring Races hydration stations to be announced at a later date.
Restroom Facilities
Locations for Spring Races restroom facilities to be announced at a later date.