2017 Greater Wichita Sports Banquet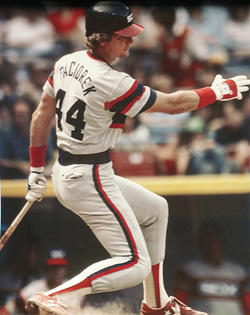 Join us on Thursday, June 29, 2017 at the Hyatt Region Wichita as we celebrate spor ts excellence in south-central Kansas at the 20th Annual Greater Wichita Sports Banquet! Various awards will be given out, including the annual Johnny Bench Award presented by BaseballSavings.com.
This year's keynote speaker is Tom Paciorek, who played eighteen seasons in Major League Baseball as an outfielder and first baseman. He appeared twice in the postseason, with the National League (NL) Champion Dodgers in 1974 and the American League (AL) West-winning White Sox in 1983.

Paciorek played baseball and football for the University of Houston from 1965 to 1968. A defensive back, he was picked by the Miami Dolphins in the ninth round of the 1968 NFL Draft. As a part of the Houston Cougars baseball club, he was named to the All-Tournament team after the Cougars became the national runner-up in the 1967 College World Series. He was inducted into the National College Baseball Hall of Fame in 2016.

Following his retirement as an active player, he worked as a color commentator for various MLB clubs.
The three finalists for each award were nominated by area coaches and athletic directors. The list of nominees was then given to a panel of area sports broadcasters and writers to narrow the list down to three finalists.
FINALISTS:
LYNETTE WOODARD HIGH SCHOOL FEMALE: Haley Albers, Cheney / Jewell Bolden, Andover Central / Emma Whitaker, Kapaun
BARRY SANDERS HIGH SCHOOL MALE: Collin Ellis, Clearwater / Matt Pile, Eisenhower / Thomas Wells, Kapaun
JUNIOR COLLEGE FEMALE: Courtney Griffiths, Cowley / Brynn Minor, Butler / Taylor Stahly, Hutch
JUNIOR COLLEGE MALE: Andre Ewers, Butler / Shakur Juiston, Hutch / Mike'l Simms, Cowley
COLLEGE FEMALE: Chelsea Baker, Friends / Emily Harvey, Newman / Nikki Larch-Miller, Wichita State
COLLEGE MALE: Toby Baxter, Friends / Dustin Reed, Newman / Hunter Veith, Wichita State
PROFESSIONAL: Macoy Erkamps, Thunder / Mikendric Harper, Force / T.J. Mittelstaedt, Wingnuts
Click --> 2017 Greater Wichita Sports Banquet Ticket Information
Or call (316) 265-6236