2018 Midwestern/Pacific Coast Synchronized Skating Sectional Championships
January 24-28, 2018

2018 NCAA Men's Basketball 1st/2nd Rounds
March 15 & 17, 2018

Welcome to the Greater Wichita Area Sports Commission

We have compiled a listing of sporting events, attractions, tournaments and facility information which we hope you will find helpful and beneficial.
2017 Johnny Bench Award presented by BaseballSavings.com
Congratulations Matt Whatley, Oral Roberts University for being named the 2017 Johnny Bench National Collegiate Catcher of the Year!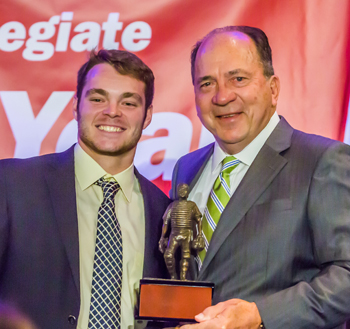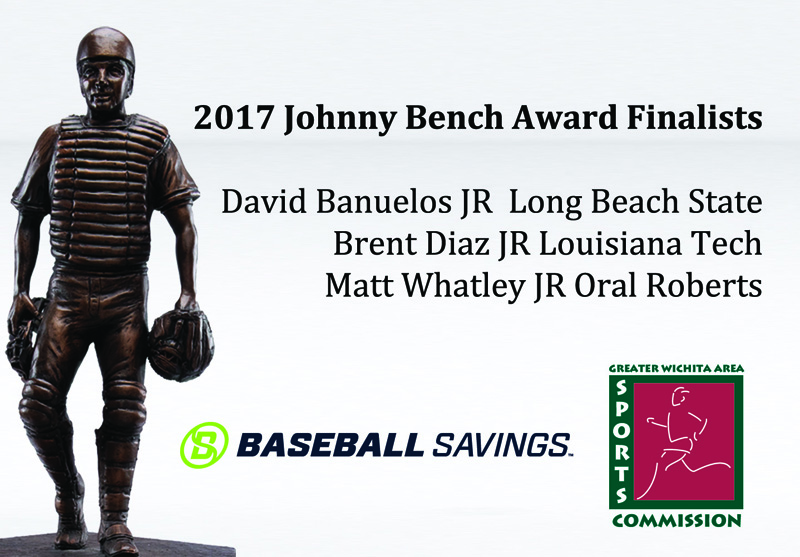 A final vote among the national committee will occur during the College World Series. All finalists will be brought to Wichita and the winner will be announced at the 20th Annual Greater Wichita Sports Banquet on June 29, 2017
.
BaseballSavings Johnny Bench Award Page
2017 Johnny Bench Award presented by BaseballSavings.com Watch List (updated 5/4/17)

Riley Adams JR University of San Diego
Hunter Allen JR Alabama State University
Bryndan Arredondo SR Lamar University
David Banuelos JR Long Beach State University
Justin Bardwell SO Fordham University
Jared Barnes JR University of South Alabama
Joey Bart SO Georgia Tech
Chris Bec JR University of Maine
Kyle Bergeron FR University of Incarnate Word
Dominic Bifano SR Indiana State University
Ellis Bitar JR Cornell University
Brett Bond JR University of Missouri
Ben Breazeale SR Wake Forest University
Kyle Brennan SR University of Buffalo
Matt Byars SR Michigan State University
Micahel Cantu JR University of Texas
Phil Capra SO Wagner College
Zach Cerbo SR Arizona State University
Brandon Chapman JR George Washington University
Robbie Coman SR University of Virginia
Brady Cox SR University of Texas, Arlington
Chris Cullen SO University of South Carolina
Michael Curry SO University of Georgia
Nick Dalesandro SO Purdue University
Tim DalPorto JR Kent State University
Jason Delay SR Vanderbilt University
Brent Diaz JR Louisiana Tech University
Ignacio Diaz SR University of Californa, Davis
Dominic DiCaprio SO Rice University
Troy Dixon SR St. John's University
Alex Dunlap SR Stanford University
Josh Ellis SR Harvard University
Michael Emodi SO Creighton University
Hunter Fain SO Morehead State University
Nick Feight JR UNC Wilmington
Justin Felix JR Arkansas State University
Ryan Fineman SO Indiana University
Colby Fitch JR University of Louisville
Joe Freiday, Jr. JR Virginia Tech
Ivan Gonzalez SO West Virginia University
Tim Graul SR University of Pennsylvania
Dempsey Grover JR UC Santa Barbara
Austin Hale JR Stetson University
Brett Helmbrecht JR Coppin State University
Chris Hudgins JR Cal State Fullerton
Nick Hutchins JR Southern Illinois University
Brandon Johnson JR University of Richmond
Cooper Johnson FR University of Mississippi
Clark Kahawaii SR Stephen F. Austin University
Scott Kapers SO Valparaiso University
Cameron Knight SR University of Arkansas at Little Rock
Grant Koch SO University of Arkansas
Justin Kunz SO Gardner-Webb University
Jake Kusz SR UNC Greensboro
Shea Langeliers FR Baylor University
Tyler Lawrence SR Murray State University
Brian Lees SR Southeast Missouri State
Spencer Levine JR Florida Gulf Coast
Ryan Lidge SR University of Notre Dame
Lee Lipinski SR Rider University
Blake Logan SR Auburn University
Charlie Madden SR Mercer University
Peyton Maddox JR Virginia Military Institute
Phil Madonna JR Siena College
Zeth Malcom FR Alabama A&M University
Renae Martinez SR University of Oklahoma
Adam McGinnis SR Western Illinois University
Nick Meyer SO Cal Poly
Zach Minnick SO Campbell University
Dominic Miroglio JR University of San Francisco
Joey Morgan JR University of Washington
James Morisano JR Saint Louis Uniiversity
Tyler Nelin JR George Mason University
Adan Ordonez JR North Carolina A&T University
Erik Ostberg JR University of Hartford
Hagen Owenby JR East Tennessee State University
Michael Papierski JR Louisiana State University
Clay Payne SR Belmont University
Manny Pazos SR University of Pittsburg
Fabian Pena SO Manhattan College
Chris Proctor SO Duke University
Kevin Radziewicz JR Fairfield University
Cal Raleigh SO Florida State University
Kekai Rios SO University of Hawaii
Cody Roberts SO University of North Carolina
Robie Rojas SR Sam Houston State University
Josh Rolette SO Kansas State University
Ereven Roper SR College of Charleston
Hayden Senger SO Miami University
Jake Sidwell SR Davidson College
Evan Skoug JR Texas Christian University
Ryan Sloniger SO Penn State
Chase Smartt SO Troy University
Nate Soria JR Xavier University
Deon Stafford Jr. JR Saint Joseph's University
Logan Starnes SR Eastern Kentucky University
Zac Susi SO University of Connecticut
Tim Susnara JR University of Oregon
Babe Thomas SR Winthrop University
Joey Thomas JR University of Cincinnati
Nick Tierno SR University of Delaware
Zach Tondi JR James Madison University
Gunnar Troutwine JR Wichita State University
Alex Tucker SR Nicholls State University
Daulton Varsho JR University of Wisconsin-Milwaukee
Carson Waln SR Wofford College
Travis Watkins SR East Carolina University
Brock Weimer SO Southern Illinois University Edwardsville
Harrison Wenson SR University of Michigan
Matt Whatley JR Oral Roberts University
Jesse Wilkening SO University of Nebraska
Chris Williams JR Clemson University
Garrett Wolforth SO Dallas Baptist University
Connor Wong JR University of Houston
Hunter Wood SR Western Kentucky University