2018 Midwestern/Pacific Coast Synchronized Skating Sectional Championships
January 24-28, 2018

2018 NCAA Men's Basketball 1st/2nd Rounds
March 15 & 17, 2018

Welcome to the Greater Wichita Area Sports Commission

We have compiled a listing of sporting events, attractions, tournaments and facility information which we hope you will find helpful and beneficial.
Wichita Selected for 2018 U.S. Figure Skating Qualifying Season
WICHITA, Kan. (Nov. 3, 2016) — U.S. Figure Skating announced last week the selection of host cities for the 2018 regional and sectional championships and synchronized sectional championships. Wichita, Kansas, was selected for the 2018 Midwestern and Pacific Coast Synchronized Skating Sectional Championships, which are slated for January 24-28, 2018, with all competitions being conducted at INTRUST Bank Arena and practices taking place at the Wichita Ice Center
The qualifying teams from the Midwestern/Pacific Coast sectional championships will take on the qualifying teams from the Eastern competition being held in Fort Meyers, Florida.
"After years of conversation with Wichita, U.S. Figure Skating is thrilled to bring the synchronized skating sectional championships to the community for the first time," said U.S. Figure Skating Events Manager Mia Corsini. "We look forward to hosting our athletes, coaches, officials and fans in one of the Midwest's preeminent cities. INTRUST Bank Arena is a premier, award-winning venue, and we are confident our entire athletes will have a great competitive experience there."
Providing local support to host the competition is the Greater Wichita Area Sports Commission, Visit Wichita and the Wichita Figure Skating Club.
"Wichita is very excited to welcome U.S. Figure Skating to the community in 2018," said Bob Hanson, President & CEO of the Greater Wichita Area Sports Commission. "In collaboration with Visit Wichita, INTRUST Bank Arena and the Wichita Figure Skating Club, the Sports Commission is thrilled to have these athletes compete in our city."
The competition will attract more than 160 teams and 6,000 athletes, coaches and their families to Wichita and is estimated to generate more than $3.4 million in local economic impact. Those competing will range in age from 7 to 70.

Read more...
Sports Commission adds two to staff
The Greater Wichita Area Sports Commission announced that Josh Howell has been named the Director of Development, Events & Marketing and Carson McAfee is now the Volunteer and Event Coordinator.
Howell joins the Sports Commission after a three-year stint at INTRUST Bank Arena. He also has experience working in the athletic departments at the University of Arkansas, Wichita State University and the University of Arizona. He received his Masters of Education in Sports Management from Wichita State University.
McAfee began his duties as the volunteer and event coordinator on September 6th. He is a recent graduate of Wichita State University, earning his B.A. in Sports Management. The Wichita native is a graduate of Wichita Northwest High School.
Welcome to the team!
Welcome Home Nico!
Congratulations Olympian, Nico Hernandez, on your bronze medal!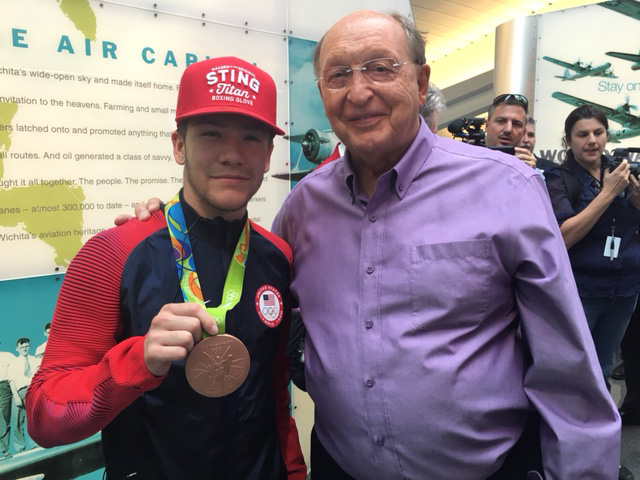 2016 Greater Wichita Sports Banquet
June 30, 2016 -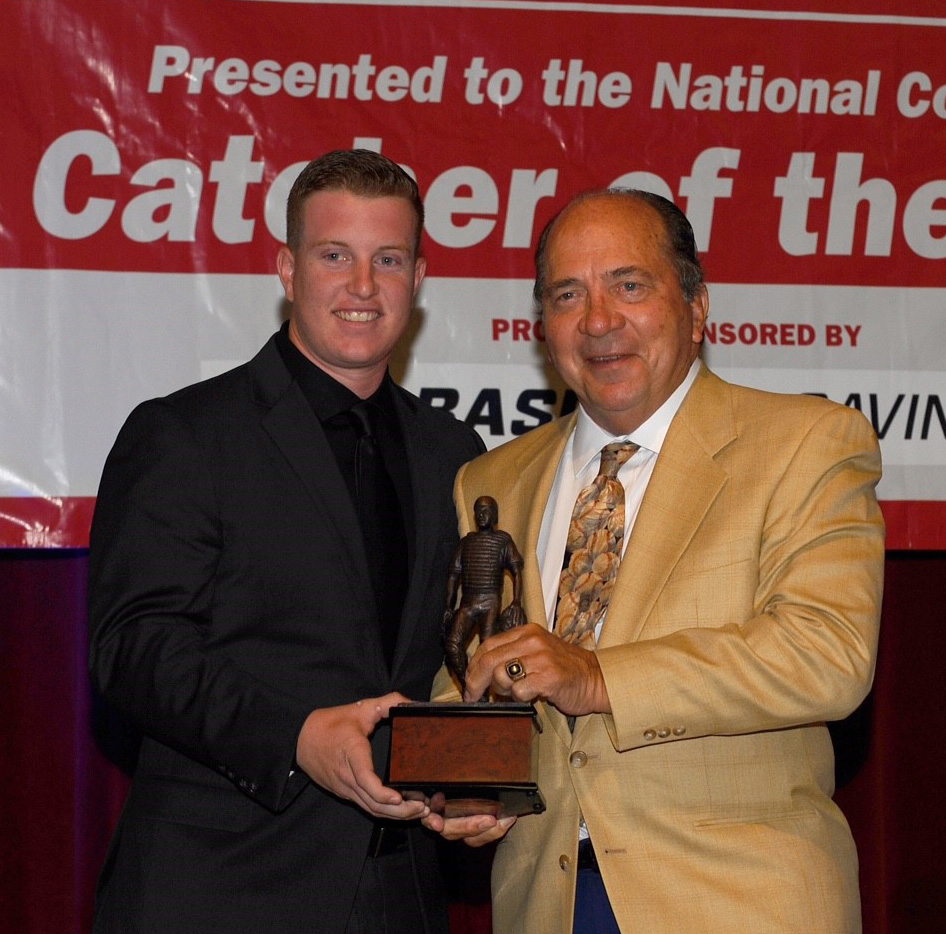 It was an evening of celebration at the 19th Annual Greater Wichita Sports Banquet as local awards were handed out in various categories. The event concluded with Johnny Bench, former Cincinnati Reds catcher and Hall of Famer, as he presented the Johnny Bench Award presented by BaseballSavings.com to Miami catcher, Zack Collins. Logan Ice of Oregon State and Keith Skinner of North Florida were also finalists for the award.

The annual banquet recognizes the achievements and dedication of local youth, high school, college and professional athletes and coaches. The winners were:
Former MLB catcher, Jim Sundberg delivered the keynote address, delivering an inspiring message about turning negatives into positives in order to persevere and keep going forward.
As a token of appreciation, Johnny Bench gave his commemorative ring celebrating the Reds 40th anniversary of their World Series to Bob Hanson for his work on the annual award.
"The Greater Wichita Area Sports Commission would like to congratulate all of the award finalists and especially Zack Collins, the Johnny Bench National Collegiate Catcher of the Year," stated Bob Hanson, president/CEO. "They represent their teams and universities in a remarkable manner."
| | | |
| --- | --- | --- |
| | | |
| Amanda Kakoulias, Andover Central High School – Lynette Woodard High School Female Athlete of the Year | | Creighton Sanders, Wichita Heights High School – Barry Sanders High School Male Athlete of the Year |
| | | |
| | | |
| Antwain Scales, Wichita South High School – High School Coach of the Year (Women's Sports) | | Mitch Fiegel, Wichita Collegiate High School – High School Coach of the Year (Men's Sports) |
| | | |
| | | |
| Brynn Minor, Butler Community College – Junior College Female Athlete of the Year | | Brylie Ware, Neosho County Community College – Junior College Male Athlete of the Year |
| | | |
| | | |
| Cacy Williams, Wichita State University – College Female Athlete of the Year, accepted by her grandpa Bill Casey. | | Ron Baker, Wichita State University – College Male Athlete of the Year, accepted by assistant coach Kyle Linsted. |
| | | |
| | | |
| Doug Chance, Butler Community College– Gene Stephenson Coach of the Year | | Clarence Anderson, Wichita Force – Professional Athlete of the Year |
| | | |
| | | |
| Wichita Force – Award of Success | | Jim Sundberg delivering the keynote address. |
| | | |
| | | |
| Zack Collins, Keith Skinner, Logan Ice & Johnny Bench | | Zack Collins addresses the audience after being named the 2016 Johnny Bench National Collegiate Catcher of the Year. |
| | | |